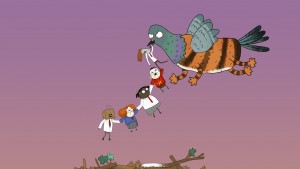 April 9, 2021
IFC SIGN WITH ABC COMMERCIAL FOR THE RUBBISH WORLD OF DAVE SPUD
The Illuminated Film Company has agreed a deal with ABC Commercial, the commercial arm of the Australian Broadcasting Corporation ('ABC'), for the distribution of the first two series of animated comedy adventure The Rubbish World of Dave Spud in Australia and New Zealand.
ABC has been the home of The Rubbish World of Dave Spud since it first went to air in Australia in 2019. Following its successful reception and positive ratings, ABC has simultaneously agreed a deal for Series 2 (52 x 11') of the -British animated series, which will launch on air in the second half of 2021.
Targeting children aged 6 to 11, The Rubbish World of Dave Spud is not your average series. Pushing the boundaries, it focuses on the no-nonsense, close knit Spud family and their amazing escapades. Dave and his family and friends as they enjoy the ordinary things in life, but it's never long before the world starts to misbehave – and this new series opens up the world with new adventures.
Created by the series director Edward Foster and produced by The Illuminated Film Company, top cast includes Johnny Vegas voicing the eponymous hero Dave Spud, Gina Yashere as his friend Gareth the Starfish, Phillip Glenister and Arthur Smith as Dave's mum and dad respectively, Lisa Hammond as Dave's sister and Jane Horrocks as the outrageous Gran – plus Akiya Henry and Adam Gillen as Lil' Sue and Robot Robert.
Producer Iain Harvey commented: "Even on a short trip to Australia, I was very happy to find so many children enjoying the series. 'Wicked' as one boy (when he looked up from his laptop) said to me. Even better, parents enjoy the series too."
Jessica Ellis, ABC Commercial's Head of Content Sales & Distribution said, "We are delighted to take up distribution of this hilarious animation for Australian and New Zealand territories and to be partnering with The Illuminated Film Company to continue to bring this wonderfully written series to the ANZ marketplace."
The Rubbish World of Dave Spud is an Illuminated Film Company production, produced in the UK.
Internationally, the series is being represented by Beta Film.